I'm not sure if this is true for the majority of gamers, but I go through game "phases." I'll play World of Warcraft (the phase I'm currently on) every single day for multiple hours, and I'll suddenly get bored. For example, I haven't touched League of Legends, Diablo 3, or Magic Online in well over a month, yet at some point in the future I'll play one of those quite faithfully and drop World of Warcraft completely. Does this sound familiar, or is it just me?
For me, games, especially single player and console games, have to be really good (at least for a little while) in order to break my inevitable game binge cycle.
Let's take a look at the E3 2018 games that could potentially break the cycle.
Anthem
We've known about Anthem for a while now, yet I've been no more than blissfully curious, not really knowing what to expect. What previously drew me to it is the fact that it appears to have a "single-player feel;" however, it's a multiplayer game, but also not an MMO. During E3 2018, we got a new trailer and a lot more information on what to expect from the game.
We learned that players will play as Freelancers in a world that is "unfinished by the Gods." We are tasked with not only finishing the world they left, but also expected to fight over the leftover resources. Anthem is scheduled to release February 22, 2019, and I'm very excited to try it out!
Sekiro: Shadows Die Twice
We heard about Sekiro: Shadows Die Twice for the first time at E3 2018. I'll be honest, though, the only reason I'm excited about it is because it's by the makers of Bloodborne and Dark Souls, which gives me some pretty high hopes for the game. I'm also pretty excited that Sekiro will take place in 1500s Sengoku-era Japan, which gives us the opportunity to explore a historical setting. The grappling hook also seems pretty cool.
Shadow of the Tomb Raider
Shadow of the Tomb Raider is another game that we knew about prior to E3 but learned more during the conferences. I loved, and I mean absolutely loved, the 2013 Tomb Raider. I had high hopes for Rise of the Tomb Raider in 2015; however, I was slightly less impressed. I thought the game was filled with too much story and too many cut scenes. In this game, Lara Croft is tasked with saving the world from the Mayan apocalypse, a pretty interesting premise for a game (and, again, historic). Shadow of the Tomb Raider is scheduled to release September 14, 2018, and I couldn't be more excited!
The Elder Scrolls VI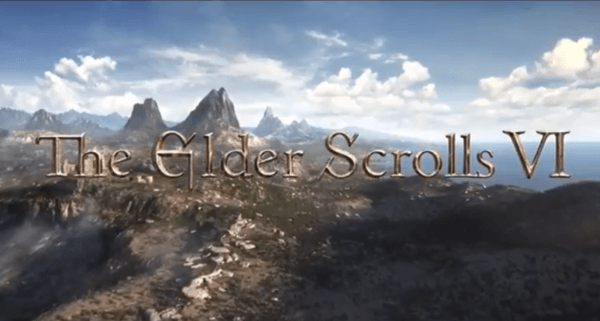 The announcement of the Elder Scrolls IV at E3 was groundbreaking, considering the number of times Elder Scrolls V: Skyrim has been revamped. After the release of Fallout 4, I became a Bethesda fan. Unfortunately, I was never able to really enjoy Skyrim the way a lot of people did. Skyrim didn't have the same feel for me as Fallout 4, and wasn't a game I could play for hours on end (perhaps it's because I'm not a fan of the open world aspects of these games, or maybe it was too old by the time I picked it up). Some people may call me crazy for thinking this about Skyrim, but I do have very high hopes for the next installment of the Elder Scrolls series and will definitely be picking up a copy. Too bad the release date is so far out — probably a couple of years or more away.
Fallout 76
Not to be cliché, but I definitely saved THE BEST for last. I'm incredibly excited for Fallout 76, given that Fallout 4 is one of my favorite games of all time! Although I have yet to play the other Fallout games, I really loved Fallout 4, which also hit me with a bit of nostalgia. I live in the greater Boston area, and was able to visit places in the game that I've been in real life.
I'm very excited that Fallout 76 is a prequel to the series and will help fans discover what being a citizen in the Wasteland truly means. I'm even more excited that it will explore the multiplayer aspect, with the team stating that "the game will only take place online" — although I'm hoping this doesn't ruin the game's single-player feel. Either way, I'm very excited.
Read all of Nerdy but Flirty's E3 2018 thoughts here!